---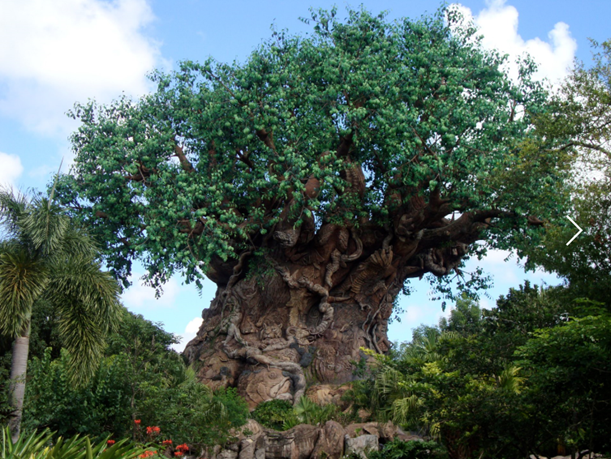 ANIMAL KINGDOM RIDES AND ATTRACTIONS
---
Animal Kingdom is Disney's most realistic park, it is dedicated to some of the earths most exotic species and wonders, amongst its lush landscaping and authentic looking architecture it houses the most impressive structure called the 'Tree of Life', after entering the park through the 'Oasis' you are greeted by this 145ft exquisite artificial tree that has over 300 animals hand carved onto its trunk. It is the parks main focal point and is the hub of the  6 main areas that branch off of it.
Take a ride on the Kilimanjaro Safari through the Savannah to spot a good look at some of Africa's most beautiful species, Animal Kingdom is in fact home to over 1,700 animals which incorporate just over 250 species.
Each area of this park is authentically themed and you are transported to the village streets of 'Harambe' in Africa, the mystical delights of the 'Kingdom of Anandapur' in Asia, step back in time at 'Dinoland USA' and uncover some of the biggest beasts that once walked the planet. 2017 brought the opening of 'Pandora' dedicated to the Box-Office hit film Avatar, this lush world of Pandora surrounds you with vivid colours, striking foliage from the film and at night becomes a host to glowing wonders as the world of Pandora illuminates to give it a unique dreamlike feel, there is no comparison to anything like it in the other parks.
Although this park is a tropical paradise with its plants, animals and landscaping, it is indeed a home to high tech rides and attractions beyond the imagination, this park offers something for all ages and caters for the thrill-seekers and animal lovers alike.
Experience some of your favourite characters in their safari attire, and dine in some wonderful places with flavours from far and wide.
ASIA
EXPEDITION EVEREST – LEGEND OF THE FORBIDDEN MOUNTAIN
KALI RIVER RAPIDS
MAHARAJAH JUNGLE TREK
FLIGHTS OF WONDER (CLOSING JAN 1, 2018 AND THERE IS A NEW SHOW THAT STARTS SPRING 2018)
BALOO & KING LOUIE (CHARACTER MEET)
AFRICA
KILIMANJARO SAFARIS
GORILLA FALLS EXPLORATION TRAIL
FESTIVAL OF THE LION KING
DINOLAND U.S.A.
FINDING NEMO – THE MUSICAL
FOSSIL FUN GAMES
THE BONEYARD
DINOSAUR
PRIMEVAL WHIRL
TRICERATOP SPIN
DONALD DUCK (CHARACTER MEET)
GOOFY & PLUTO (CHARACTER MEET)
DISCOVERY ISLAND
DISCOVERY ISLAND TRAILS
IT'S TOUGH TO BE A BUG!
TIMON (CHARACTER MEET)
TARZAN (CHARACTER MEET)
RUSSELL & DUG (CHARACTER MEET)
POCAHONTAS (CHARACTER MEET)
FLIK (CHARACTER MEET)
MEET DISNEY PALS AT ADV. OUTPOST (CHARACTER MEET)
RAFIKI'S PLANET WATCH
DOC MCSTUFFINS (CHARACTER MEET)
CHIP 'N' DALE (CHARACTER MEET)
RAFIKI (CHARACTER MEET)
AFFECTION SECTION
CONSERVATION STATION
HABITAT HABIT!
WILDLIFE EXPRESS TRAIN
THE OASIS
PANDORA
NA'VI RIVER JOURNEY
AVATAR FLIGHT OF PASSAGE
NIGHTTIME  EVENTS
TREE OF LIFE AWAKENINGS
RIVERS OF LIGHT