---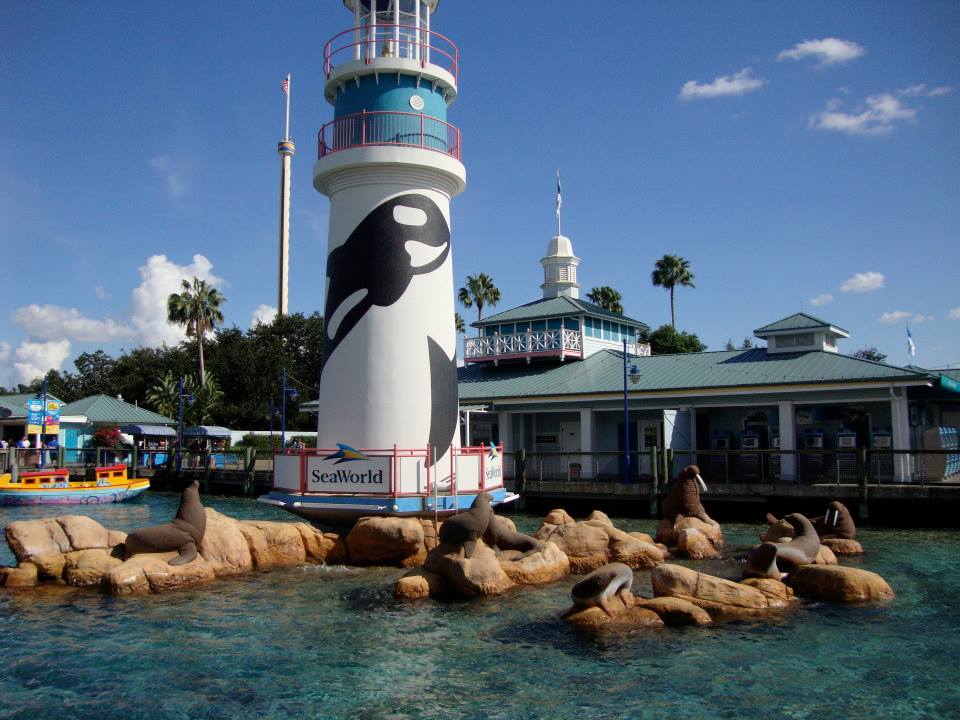 SeaWorld
---
SeaWorld has some amazing marine animals so jump into their world and journey through the world of these beautiful sea creatures. You will fly,gasp and laugh on the best rides and attractions in Florida.  Walk like a penguin,say hello to the stingrays and eat in the company of sharks and share some fish with sea lions.  You will have lots of fun and adventures at SeaWorld.  SeaWorld offers you lots of  animal encounters, including working with trainers and feeding marine animals. Make sure you do not forget to see the one ocean show its amazing you will not be disappointed.
This unique marine park is one great place for family fun and on top of that, it is also very educational because the kids here get a more intimate experience in learning about different kinds of animals, their needs, and how to help conserve them. Kids can have an up close and personal experience with bottlenose dolphins and even stingrays in SeaWorld's touch pools.
From artificial coral reefs to seals, stingrays and lots more, you and your family will never run out of attractions and things to do while you are visiting this fantastic park.
RIDES AND ATTRACTIONS
---
Jet Rescue
Battle Boats
Sky Climb
Sky Fortress
Monorail


Dining

Colonial Ice Cream Palour
Dockside-tavern
Dominos-pizza
Frozen-coke-stand
International Menu
Lakeside-terrace
Plaza-food
INFINITY FALLS (NEW RIDE)
LIVE ENTERTAINMENT
DOLPHIN DAYS

Dolphin Days is a bubbly festival of our natural world featuring the sea's most fun loving Atlantic Bottlenose Dolphins.

Dolphin Days will engage and inspire while instructing your family about dolphins and their significance to our natural world. Together with a taking off rainbow of tropical winged creatures, ocean and sky join together while visitors get a very close look at the relationship and the connections the glorious creatures have with their mentors.

ELMO ROCKS

Elmo and companions shape their own band to give a great show.

Join Sesame street companions Elmo,Abby,cookie monster,Cadabby Zoe, Bert and Ernie at Sea Port Theater as they make their own rock n' roll band to give a concert.Brilliant music and lots of fun for all involved. Make sure you play and sing along.

OCEAN DISCOVERY

Take in more about killer whales,they are also called Orcas, and different types of whales amid an extraordinary educational show.

This show is 30-minutes long and teaches visitors about the adjustments, territories and behavior of the killer whales.

This special show is an addition to the ocean shows that take place during the day.

ONE OCEAN

Voyage into the world of the great killer whales in the One Ocean show.

You will join Killer whales let them take you though a journey that make you dance to the oceans rhythm. The One Ocean show is thrilling and you will feel the spirit of life that is under the sea and then you will realise that we are all part of one world.
PHOTO OPPORTUNITIES
Get your photo taken with one of sea world's beautiful dolphins as you stand knee deep in water next to these amazing mammals. (1 person per photo)
Grab the family and get your photo taken with one of sea world's cheeky seals. it's a truly unique family photo that you'll treasure forever. (6 people max per photo)
Take home a magical photo of your visit with a photo of you hugging one of sea world's seals. (1 person per photo)