---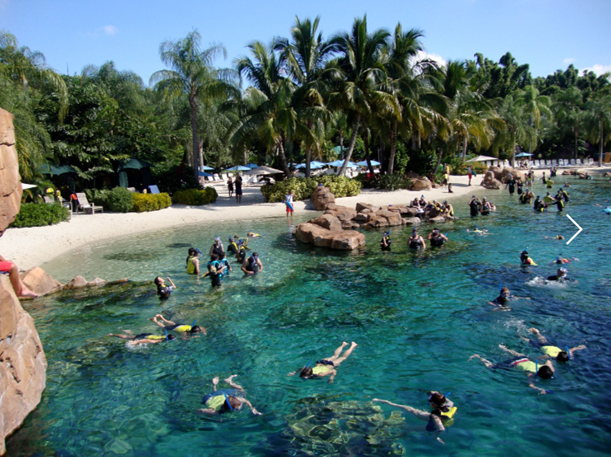 OVERVIEW
---
Discovery Cove has a lot of side attractions such as the Aviary which is a one-stop point for kids. They get to play with colourful birds, learn about them and even feed them.
Beach lovers can have unlimited fun at our sugar-white Pristine beach. A lot of guests do not leave without visiting here for sunbathing and beach walking. They provide a conducive beach environment to accommodate every guest's need including beach surfers.
DOLPHIN LAGOON
---
The dolphin lagoon will be the highlight of your visit to discovery cove. You will have the opportunity to swim with some fantastic bottlenosed dolphins.  You will be accompanied by a trainer within a small group then you will walk into shallow waters and be introduced to your dolphin with kisses,hugs and rubdowns. Then you will get to know your dolphin better by going on a tow ride on the dolphins fin.
Take a look at our recent visit. 
 FRESHWATER OASIS
---
Freshwater Oasis features an adventure through clear springs, covered by a rain forest canopy to both swim and relax while looking for creatures on land and sea.
THE GRAND REEF
---
The Grand Reef  has a white-sand beach, palm-lined island and underwater grotto with moray reef sharks,eels  and lots of other tropical fish. Activities range from snorkelling with sting rays to crossing a rope bridge over a shark-filled lagoon.  Make sure you look out for hidden grotto's and take the paths to the reefs island.
DISCOVERY COVE INCLUDES THE FOLLOWING FACILITIES WITH ADMISSION
---
Lockers for Unlimited Use Throughout the Day
Wet Suits and Vest
Shower and Changing Facilities
Animal-safe Sunscreen
Fresh Towels
Snorkeling Gear, With Prescription Goggles Available Upon Request
DINING
---
BREAKFAST
Freshly Prepared Hot Breakfast
Yogurt
Assorted Pastries
Fresh Fruit
LUNCH
ENTRÉES
Bacon Beach Burger
Sweet Hawaiian Chicken
Served over a bed of fried rice
Sustainable Fish Selection
BBQ Pulled Pork Sandwich
Served with French Fries and Corn Cobbette
Seaside Club Sandwich
Ham, Turkey, Cheese, Lettuce, Tomato, and Red Onion on fresh baked bread
Tropical Summer Cobb Salad 
Fresh greens tossed with Feta Cheese, Cranberry, Red Onion, Orange Segments, Lo Mein Noodles, and Honey Mustard dressing. Your choice of Crispy or Grilled Chicken.
Chicken Tenders
Served with choice of French Fries or Corn Cobbette
Island hot Dog
Served with French Fries
Home Made Macaroni & Cheese
Penne Pasta
Choice of Cheesy Alfredo or Marinara with meatballs

SIDES

Fruit Cup
Salad
Rice
Steamed Vegetables
French Fries
Macaroni & Cheese
DESSERTS
Chocolate Chip Cake
Cherry Cheesecake
Carrot Cake
Tropical Cake
Fresh Fruit
Assorted Pastries
KID'S MENU
Hot Dog
Served with French Fries or choice of side.
Chicken Tenders
Served with French Fries or choice of side.
Hamburger
Served with French Fries or choice of side.
Macaroni & Cheese
Pasta with Marinara and/or Meatballs
Unlimited access to The Grand Reef, Freshwater Oasis, Serenity Bay, Wind-Away River and Explorer's Aviary
30 minute dolphin swim and interaction at Dolphin Lagoon (if the Dolphin Swim Package is selected)
All meals and snacks freshly prepared throughout the day
Soft drinks, water and alcoholic beverages
Snorkelling equipment including a souvenir snorkel
Animal-friendly sun cream, towels, wet suits/vests and lockers
14 days unlimited access to SeaWorld and Aquatica (if the Discovery Cove Package is selected)
14 days unlimited access to SeaWorld, Aquatica and Busch Gardens plus free unlimited parking (if the Discovery Cove Ultimate Package is selected)