Disney's New Opening Of Toy Story Land In Florida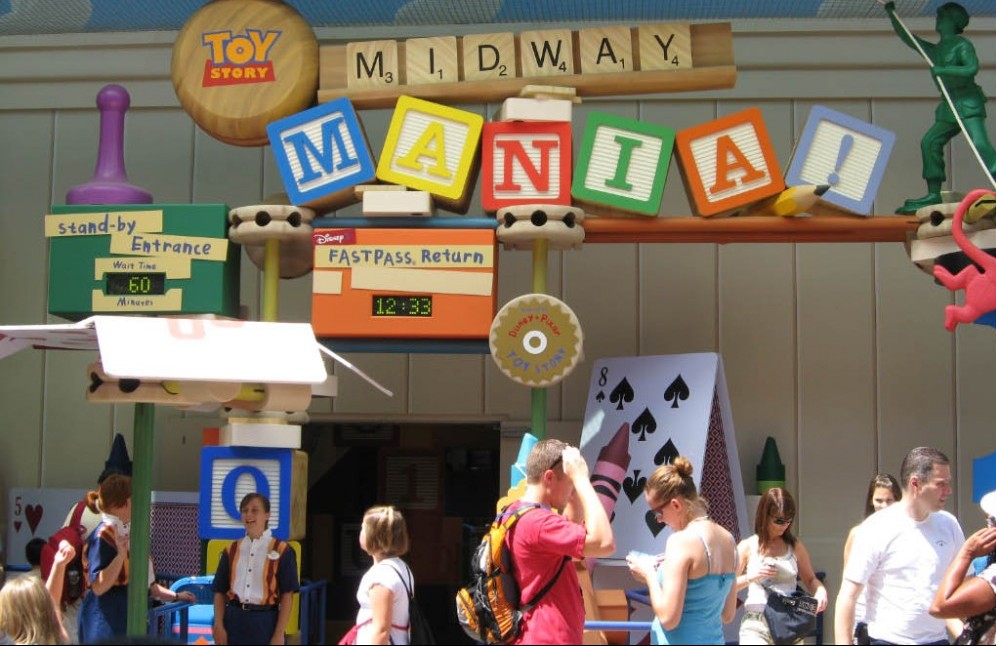 Opening Of Toy Story Land
Disney's new opening of Toy Story Land in Florida will take guests to infinity and beyond, enabling them to move into the worlds of their favourite films, starting with Toy Story Land. This new 11-acre land will transport visitors into  the adventurous outdoors of Andy's backyard. Guests will feel as though they've been shrunk down to the size of a toy as they are enclosed by big toys that Andy has assembled using his vivid imagination. Using toys like building blocks,plastic buckets,shovels, and game board pieces, Andy has designed the perfect setting for this land, which includes two brand new attractions and one expanded favourite.
Slinky Dog Dash
Slinky Dog Dash is a family-friendly roller coaster that will take guests on a toy-filled adventure through Andy's backyard on the back of Slinky Dog. The entire coaster appears as though the track was built by Andy using a Mega Coaster Play Kit!
Alien Swirling Saucers
This attraction includes the little green aliens from The Claw in Pizza Planet. Guests will climb into their 'toy" rocket and as the green aliens lead the way on an interstellar romp set to certain amazing tunes and if you're really lucky  you just might get 'chosen' by the claw!
Toy Story Mania!
The attraction has a brand new entrance in the form of a carnival game box that guests will walk through as they enter from Toy Story Land! Toy Story Mania is just like Buzz light Year space ranger spin but in toy story mania your ride vehicle goes through a midway.
When you put on your 3d glasses You will experience buzz, woody and friends come to life as they help you beat the evil zurg. Try to beat your partner in this whirl wind adventure, good luck
Woody's Lunch Box
Andy has taken his lunch box and turned it into a backyard walk-up window serving tasty eats & treats! Woody's Lunch Box serves up classic on-the-go menu items with a creative twist.
Sarge and the Green Army Man Drum Corps
Guests are going to be entertained by the Sarge and the Green Army Man Drum Corps, who will march through the land several times daily and stop to play 'Sarge Says' with guests, and other games with a larger-than-life Pixar ball and crayons. Guests are additionally given the option to join in on their interactive boot camp and see if they have what it takes to become an official recruit in Andy's Backyard.
Tоу Stоrу Lаnd Merchandise
Guests will find unique logo merchandise, must-have collectables,and unique gifts that will become take-home memories of their playtime in the newest land at the Walt Disney World Resort.
About toy story
Following the release of the third film in the ever-popular Toy Story series from Pixar, store shelves both on and offline have been burgeoning with a glut of toys featuring Buzz, Woody, and the gang. Fans are being reminded of how much they love the series and have a huge selection of the most popular toys as gifts for children (and big kids!) around the world. Since the first Toy Story film was released in 1995, generations of kids and grown-ups have been enthralled by the tales of Andy's much-loved cowboy doll when an adventurous space ranger comes into their lives. The Toy Story trilogy and licensing deals with some of the most popular toy manufacturers have meant that there are a wide variety of actions figures and games to choose from with something for all fans of the films. Fisher-price, Mattel, Hasbro, and Vtech are among the many companies producing Toy story toys, along with Disney's own range of character toys from the series.
The most popular by a long way are the Buzz Lightyear action figures having been one of the highest selling toys in the UK and US back in 1995, with the original 30cm version now a collector's item.One of the original Buzz Lightyear figures even went into space in 2008 when NASA astronauts took one with them to the International Space Station.For the sequels of the films, manufacturers made sure they have enough Buzz Light year dolls to meet demand and now with the huge variety of games, dress-up costumes and even a Buzz version of Mr. Potato Head, there is no shortage of Buzz related toys available.
For the sequels of the films, manufacturers made sure they have enough Buzz Lightyear dolls to meet demand and now with the huge variety of games, dress-up costumes and even a Buzz version of Mr. Potato Head, there is no shortage of Buzz related toys available.From the first Toy Story film. Sheriff Woody dolls were also popular, as well as the other major characters including Hamm the piggy bank, Rex the dinosaur. Slinky Dog – the toy dachshund with a slinky for a body and the ever popular Mr. Potato Head from Playskool. Toy Story 2 introduced the wild and adventurous Jessie the Yodeling Cowgirl doll along with Bullseye the horse and Stinky Pete the Prospector from the Woody's Roundup TV show. The second film also introduced a toy adversary for the characters in the form of Evil Emperor Zurg, of which a number of toys are available from Disney, Lego, and other toy makers.
The last Toy Story 3 has provided toy manufacturers with a wealth of ideas for new characters, scenes to re-enact, vehicles and games. From the exciting opening scene, Lego offers the Western Train Chase set complete with all the characters and Hamm masquerading as Evil Doctor Porkchop. New adversaries from the film are the duplicitous but sweet-smelling interactive Lot so Huggin Bear, Ken and Barbie dolls and the soft and cuddly Dolly and plush Mr. Pricklepants hedgehog. With the wide range of toys available and retailers well stocked and ready for Christmas, it looks like there will be a huge choice for fans of the Toy Story films.
Who's looking forward to the new film being released next year?