Magic Kingdom: Walt's Dream Come True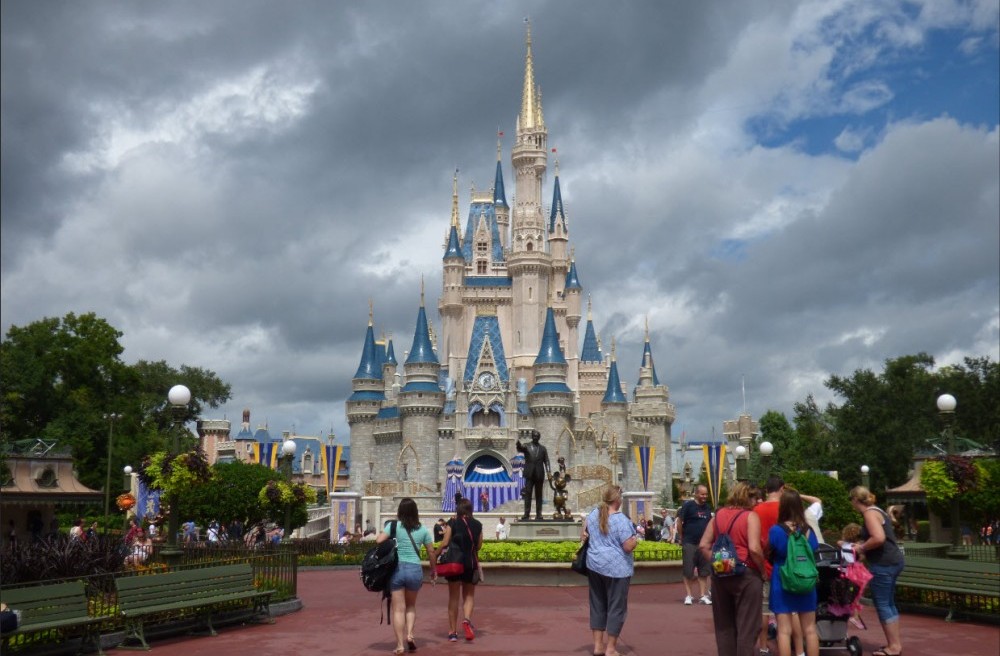 Magic Kingdom is often referred to as "The Place Where Dreams Come True" and quite frankly I totally agree with that. This is Walt Disney Worlds most popular park, and of course the home of the magnificent and beautiful 'Cinderella's Castle'. After Walt's success with Disneyland in California he set out to find more land to build a bigger and better park, Walt had become frustrated with the garish and often chaotic 'neighbouring' shops, restaurants and cheap hotels that surrounded his Californian dream.
He found just the place in Florida, along with his staff and team of architects, designers and engineers they set out to build Walt's vision. Sadly Walt passed away in 1966, but his legacy was carried out and Magic Kingdom opened in October 1971.
It has stayed true to his visions and has taken into account Walt's interests in the future, his years spent in the American Midwest, and his main vision of creating a magical place where parents and children can spend time together and have fun.
Magic kingdom is divided up into six main areas, referred to as 'Lands', these all surround the Castle and branch off in a spoke like pattern.
Your first encounter as you enter the park is "Main Street USA", a delightful array of shops, a variety of snack foods, a wealth of live entertainment, character meetings and more, it is even complete with its own City Hall. Main Street also gives you your first glimpse of the breath taking Cinderella's Castle and leads you all the way to it.
To the right of the Castle you have "Tomorrowland", blast yourself into all the fun and entertainment the future has to offer, spot some of your favorites such as Buzz Lightyear, Stitch and the Monsters Inc gang.
To the left of the Castle is "Adventureland", cross blades with swash buckling pirates, cruise deep into the jungle or take a Magic Carpet ride. Many wonderful adventures await.
Situated behind the Castle is "Fantasyland", discover the treasures under the Sea with Ariel & friends, grab a hearty snack in 'Gaston's Tavern' and admire the beautiful Beauty & The Beast Castle, be sure to make an advanced dinner or lunch reservation as the restaurant inside is truly not to be missed.
Nestled between Fantasyland and Adventureland you will find "Frontierland", a rootin' tootin' fun packed area filled with entertainment and rides to suit the entire family, we set out to have 3 generations on 'Splash Mountain' when we visit next year!
Last but by no means least, we have "Liberty Square". Step foot into the colonial era of America, take advantage of the stunning photo spot of the Liberty Square Riverboat and don't forget to visit the unmissable 'Haunted Mansion', but be careful, it has been known for some of you to leave with a few 'Ghostly Hitch-Hikers'.
Be sure not to miss the Daily parades and stage shows in front of the Castle. But, whatever you do, do not turn in early! Magic Kingdom is typically open the latest of all the Disney Parks and has so much to offer after dark. The electrical parade is magnificent, the children and grown-ups will both be mesmerized by the lights and music. It is said, that you have never seen fireworks better than those of the nighttime spectacular over the Castle. The Castle itself presents the wonderful tribute to the movies 'Celebrate The Magic'.
My Favorite ride at Magic Kingdom
Pirates of the Caribbean Ride is my all time favorite ride at Magic Kingdom and I highly recommend it. The ride lasts about 9 minutes with my favorite part being all the pirates singing "Yo Ho, Yo Ho (A Pirate's Life for Me). Make sure you look out for a sly Captain Jack Sparrow.
These will be sites you will be visiting on your journey:
• Pirates Grotto
• The Fort
• Burning City
• The Dungeon
Dead men tell no tales or so they say.
With all this to offer, there's no wonder Magic Kingdom is the most popular of all the Walt Disney World parks, it truly does have something to suit all ages. From childhood classics, to box office bests, Magic Kingdom truly is the happiest place on earth.
Have you been to Magic Kingdom? What's your favourite part of the park? What is your favourite ride? Leave a Comment below.