Ultimate Guide to Disney's All Star Resorts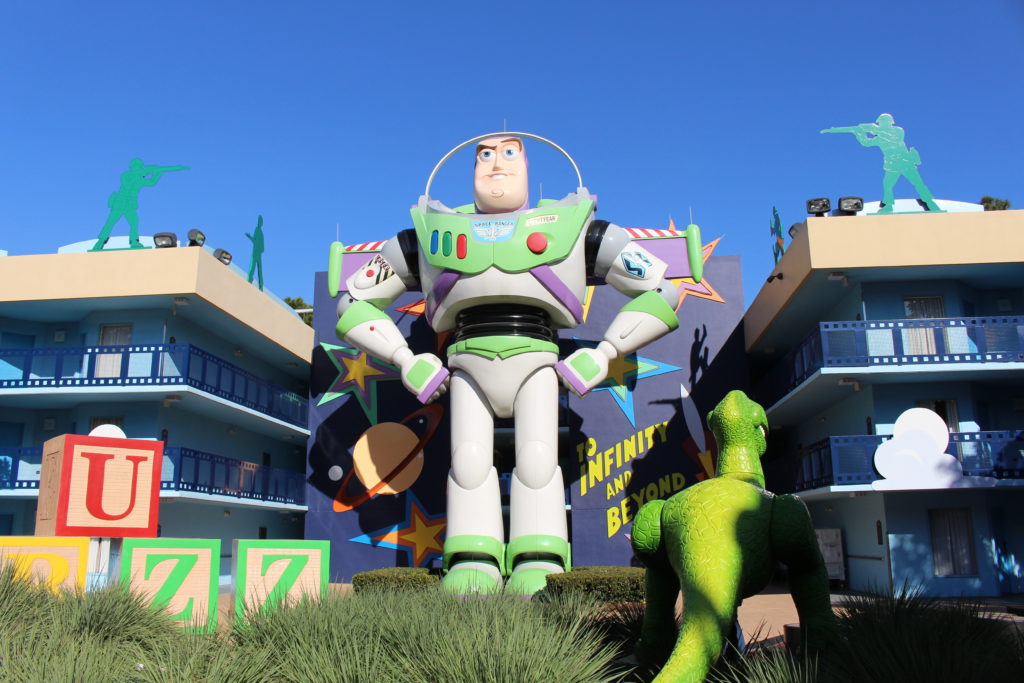 Disney resorts are known to be the most fun getaways you can have, especially for kids; this is no exception to the All Star Resorts. Chock full of activities, tons of amenities and a ton of dining and entertainment options, you will never be disappointed.
There are three Disney All-star Resorts:
All-Star Sports Resort
All-Star Movie Resort
All-Star Music Resort
All-Star Sports Resort
Enjoy this fantastic sports themed resort hotel that adds the world of competitive sports such as Baseball, Basketball, football, tennis and surfing taking it to a whole new level of fun. In the All-Star Sports resort Hotel, it's about enjoying the sports, the atmosphere, the Disney characters to complete your experience in a truly magical sporty world.
Step up your game as this Champion of a resort is geared up to compete with the rest! Find some of your favourite characters working up a sweat around the grounds. This resort features Tennis, Basketball, American Football, Baseball and Surfing, complete with sports themed pools you'll soon be a big fan.
Dining Options
There's a lot of food options at Disney's All Star Resort from an array of fresh food to the convenient and mouthwatering room delivery, with this menu you'll be spoilt for choice.
End Zone Food Court – Here to provide breakfast, lunch and dinner, it's a place where people lineup for their delicious and scrumptious burgers, hotdogs, pizzas and pastas, smoothies and gelato. It's all the fun under one roof.
Grandstand Spirits Pool Bar – Something exclusive for the adults. This cool hangout by the surfboard Bay Pool is a great place to relax and take the edge off.
Disney Resorts Pizza Delivery – This dine-in pizza delivery service is for you to enjoy in your hotel room, eat some scrumptious pizza's with your friends and family.
Facilities
3 Swimming Pools
Food Court Counter Service (No Table Service)
Poolside Bar
Arcade
3 Children's Wet Play Area
Disney Gift Shops
Laundry/dry Cleaning Service
Sports Themed Resort
Free Transport to Theme Parks
All-star Movie Resort
Disney fans, young and old, Disney's Movie Resort is the place where you can enjoy everything from classic Disney Cinema, to the modern characters, this place will make you enjoy every second.
With the larger-than-life décor, the cute Disney themes and the very hearty Disney atmosphere, it's the place fit for adults and children alike.
Share your stay with some familiar larger than life movie legends in this fun filled resort. Consisting of five fabulous themed areas you could get a whole lot of "puck" for your buck with the Mighty Ducks, be right in the "spot" light with 101 Dalmatians, rev up your adventure with Herbie the Love Bug, travel "to infinity and beyond" with Buzz, Woody and the gang from Toy Story, or simply have a magical time with Sorcerer Mickey in Fantasia.
Dining Options
Word Premiere Food Court – Breakfast, lunch, dinner and late night foods, this place is where the fun happens, a great place to eat delicious meals any time of the day (or night).
Silver Screen Spirits Pool Bar – Try a specialty drink or two! It's the place you want to be and enjoy while there at the All-star Movie Resort
Disney Resorts Pizza Delivery – Want to stay in your hotel room? Pizza awaits! You can get pizza delivered to your hotel room for dinner and late night cravings.
Entertainment options
Movies under the stars – Enjoy the screenings of Disney films outside the World Premiere Food Court and enjoy a great time with friends and family
Jogging Trail – Get some leg work done on the cool, well-decorated Jogging Trail
Playground – for the young ones
Pools – enjoy a swim in the Disney decorated pools
Reel Fun Arcade – Great for kids and adults alike
Facilities
Poolside Movies
The Fantasia Pool
The Duck Pond Pool
Wet-play Area & Wading Pool for children
Playground
Reel Fun Arcade
On-site food court
On-Site shopping
Daily Maid Service
Free transportation to the Disney Parks
Theme park purchases delivered to the resort
Pizza Delivery
All-star Music Resort
Music lovers will be in their element at this fun and colourful resort. It offers something to suit everyone with Calypso, Rock 'n' Roll, Country, Jazz and Broadway-style genres. You will find gigantic music inspired tributes around the grounds and the fun of song and dance infuses not only into the rooms, but also into the two fabulous pools. So don't forget to pack your dancing shoes!!
Dining Options
World Premiere Food Court –This restaurant serves breakfast, lunch and dinner.
Intermission Food Court – Quick service dining and will include some all time favourites, from pizza and pasta to salads
Singing Spirits poolside bar- This open-air pool bar serves refreshments and snacks which is right next to the guitar-shaped "calypso" pool
Facilities
Themed Fantasia Pool with sorcerer Mickey spray fountain
Kids' splash play area
World Premiere food court (Quick Service Dining)
Silver Screen Spirits Pool Bar
Pizza delivery (selected hours)
Jogging trail
Reel Fun Arcade
Playground
Movies Under The Stars
Disney is the king of entertainment, and their All-star hotels are no exception. With a massive focus on family fun, there's no doubt you'd want to come here every vacation.
Have you ever been to the All Star Resorts?