A Guide To Universal's Volcano Bay Water Park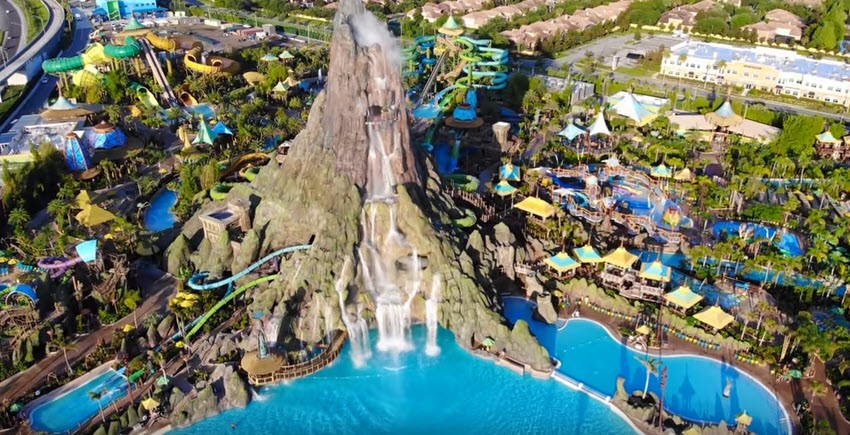 Universal's Volcano bay water park is one of the best around, this guide is packed with tons of things you can do, great family fun and an amazing way to enjoy your vacation. Enjoy thrills, chills and the relaxing flow around volcano bay.

Ohno of Ohyah & Ohno Drop slides – Make the climb and brave the rope bridge and take the plunge down a serpentine journey that ends six feet above the pool. Make sure to scream as you fly down slides with wicked twists and turns.
Krakatau Aqua Coaster – Experience the electricity of Krakatau in this brilliant ride. Four-person canoes slide upward into the dark twists and turns in the volcano before the plunge through a shimmering waterfall.
Waturi Beach – At the waturi beach, the waves are just right they overlap each other and the water looks just right for swimming. As you enter the Volcano Bay, you pass through a very lush, tropical landscape. There are tons of beautiful sceneries, great places for relaxing and making your trip just a little more special.
Kopiko Wai Winding River – Take a slow cruise in the water on the Kopiko Wai Winding River through many unique landscapes; it's a land full of surprises, sprays of water will sprout out, you'll see lava, rocks and magical new places.
Honu of the Honu ika Moana – similar to the ancient Waturifolks who rode the sea waves on friendly sea turtles, you can experience this twisting, turning, multi-people slide.
Maku of the Maku Puihi Round Raft Rides – This six-person rafting adventure isn't for the weak hearted. After you get into the dramatic lava-tube, Maku slides thru a deep volcanic gorge.
Puka Uli Lagoon – This pool features playful water slides that even the smallest can enjoy, like tropical bongo drums and spraying jets of water.
More rides include:
• Honu of the Honu ika Moana
• Teawa The Fearless River
• And lots more
If you get hungry, there are amazing restaurants in the park which include
• The feasting frog
• Whakawaiwai eats
• Bamboo
• Dancing dragons boat bar
• Kunuku boat bar
• Kohola reef restaurant & Social club
These restaurants have a variety of foods which will tantalize your taste buds and make you want more. A great way to spend time with your friends and family after a big day of water splashing fun.
Admission Prices
1 Day Volcano Bay Pass $67.00
3 Day 3 Park Pass $314.99
4 days 3 Park $324.99/5 days 3 Park $334.99
3 Day 1 Park a day pass $259.99/4 days 1 Park a day $269.99/5 days 1 Park a day $279.99
Explore Tapu Tapu?
Volcano Bay guests will get to enjoy this new wearable waterproof watch. It's yours for the whole day and it stops you standing in lines all day. Tapu Tapu will hold your place in a virtual line then you can go off and relax until its your turn to ride. You will love this new technology that allows you to purchase food and merchandise throughout the park also don't forget to look out for volcano Bay's hidden surprises just look for the Tapu Tapu symbol.
Shopping
• Waturi Marketplace
• Krakatoa Katy's
Don't wanna return empty handed? These shopping stores have amazing clothes, memorabilia items, accessories and more! Enjoy your trip and end it off with their amazing selection of items.
Join the Tim Tracker on this tour of Volcano Bay.
What's your favorite ride at volcano Bay? Let us know in the comments below.