A Guide To Walt Disney World's Epcot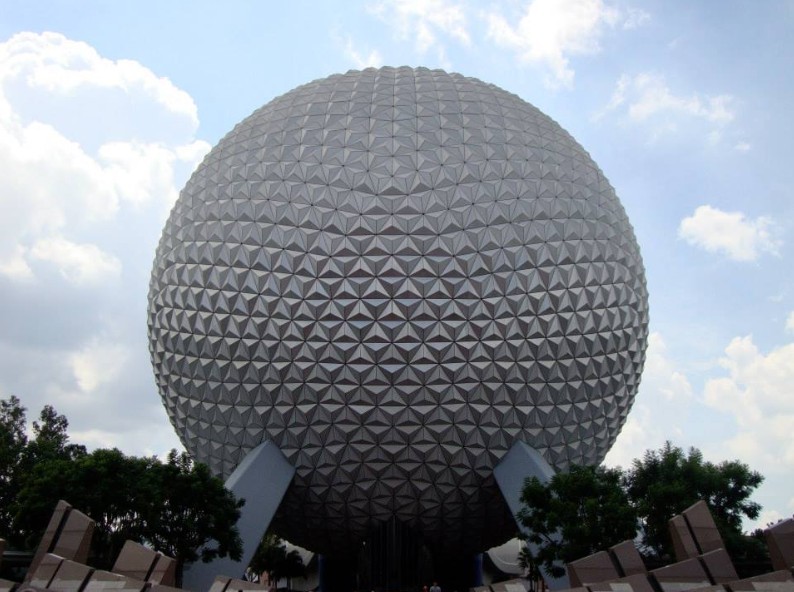 Epcot has to be one of my favourite parks in Walt Disney World and this guide will show you all you need to know. It consists mainly of two sections, Future World & World Showcase, the two areas combine together to make one large and extremely fascinating Park.
The Epcot ball, often referred to as the 'Golf Ball' can be seen from various landmarks and even certain Hotels. The ball itself greets you at the entrance to the park and you can then realise and appreciate its sheer volume and architectural elegance.
Be sure to enter the ball for 'Spaceship Earth', a slow moving ride through the history of communication and explore the landmark moments that made today's communication technology possible.
The first main section of the park is Future World, a collection of scientific zones which divide up into sections such as: geography, automotive safety, agriculture and fossil fuels, with attractions that focus on all sorts of interests such as: communication, imagination, energy, the land and our environment, transportation, space exploration and the ocean.
Future World is extremely educational and will have all ages using their imaginations to infinity and beyond, it truly is a vision for tomorrow.
The second section is the World Showcase, a collection of eleven countries which are all set around a beautiful 40 acre lake.
Forget around the world in 80 days, you and your family will enjoy everything the World Showcase has to offer in one day. Fancy a spot of lunch in Mexico, fine dining in France, refreshments in a great British Pub, well why not!
Each country has something totally unique to offer and highlights the best and most famous iconic landmarks from their country. Every step of the 1.3 mile trek is enjoyable, you'll experience entertainment, shops, dining and attractions unique to their native culture.
Epcot is a truly fun, wonderful and educational day out and what better way to end the perfect day than watching the nightly display of IllumiNations : Reflections of Earth, this is a nighttime spectacular of erupting flames and fireworks set around the beautiful lagoon.
The show plays tribute to the history of our planet with video images displayed onto a giant floating sphere, and lasers fill the skies as it tells the Earth's incredible tale of humanity and the achievements of our time.
The sphere blossoms like a flower to expose a ball of fire, while the lagoon is lit up by a sparkling mass of white lights as a chorus of voices fill the air with wonder, this all leads to the shows' finale.
The entire day will leave you speechless and filled with that magical feeling Walt set out to inflict upon everyone.
EPCOT RIDES AND ATTRACTIONS
Future World
Test Track
Soarin
Mission Space
Spaceship Earth
The Seas Pavilion
Seas with nemo & Friends
Turtle Talk With Crush
Journey Into Imagination
Club Cool
Disney & Pixar Short Film
Festival
Innoventions
Jammitors
Character Spot – Baymax (Character Meet)
Character Spot – Joy & Sadness (Character Meet)
Pluto (Character Meet)
Daisy Duck (Character Meet)
World Showcase
Mexico Pavilion
Mexico – Gran Fiesta Tour
Mexico – Mariachi Cobre
Mexico – Donald (Character Meet)
Norway Pavilion
Norway – Frozen Ever After
Norway – Anna & Elsa At The Royal Sommerhus (Character Meet)
China Pavilion
China – Acrobatic Show
China – Refl. Of China
China – Mulan (Character Meet)
Germany Pavilion
Germany – Snow White (Character Meet)
Italy Pavilion
Italy – Sergio
Amer. Adv. Pavilion
American Adventure – Voices Of Liberty
Japan Pavilion
Japan – Matsuriza
Morocco Pavilion
Morocco – Matboukha Groove
Morocco – Aladdin & Jasmine (Character Meet)
France Pavilion
France – Impr. De France
France – Serv. Amusant
France – Belle (Character Meet)
France – Aurora (Character Meet)
Uk Pavilion
Uk – British Revolution
Uk – Quickstep
Uk – Mary Poppins (Character Meet)
Uk – Alice In Wonderland (Character Meet)
Canada Pavilion
Canada – Alberta Bound
Canada – O Canada!
Nighttime Event
A guide to Epcot's food and wine festival.
Garden Rocks Concert
Make sure you look out for the concert times as its a must do, we absolutely loved it and was lucky enough to see Billy Ocean.
Have you been to Epcot? What was your favourite part?