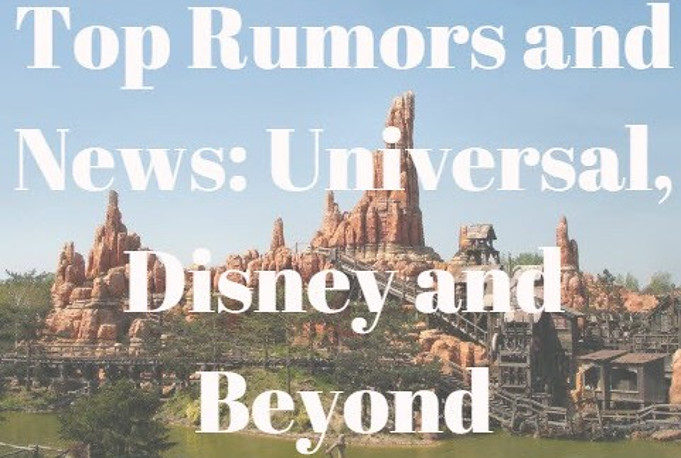 In todays post we're going to be letting you in on all the rumors and news for Walt Disney World, Universal Studios and beyond.
There is always news and rumors surrounding the big theme parks in Orlando so here are some of the latest. 
News #1: Jurassic Park: One Last Ride
September 3rd 2018 was the last time you could experience Jurassic Park: The Ride before it's extinction. It opened 22 years ago had millions of guests and took you through a journey of the world of dinosaurs but not all is lost because earlier this year Universal Announced that Jurassic Park:The Ride is going to undergo a major refurbishment.
The overhaul will bring the new Jurassic World films to life and will modernize scenes from the existing ride design also they will use an all-new animatronic elements. The last day was a sad day and if you was lucky enough to be there then I'm sure you could understand the wait times which peaked around the 150 minutes. I was lucky enough to ride this and i'm looking forward to the new Jurrasic Park ride opening sometime in the future.
News #2: New Killer Whale Trainer tour coming to SeaWorld Orlando
The new Killer Whale Trainer Talk will teach guests more about how the trainers communicate and care for the whales through demonstrations with the whales. Guests will have the opportunity to ask questions and hear lots of interesting stories from the world class trainers who love and care for the animals every day.
Killer Whale Tour dates are Sept. 11, 13, 18, 20, 25 and 27. A SeaWorld ticket will be required and is not in the tour price. The prices begin at $19 each for both adults ages 18 and up and children aged 3-17. Children under 3 are free.
News #3: Disney's Fantasia Gardens Mini-Golf Course closes for refurbishment
The Gardens mini-golf course at Disney's Fantasia Gardens Miniature Golf is now closed for refurbishment and will remain closed for the rest of the month and will open again on Friday the 28th of September. The Fantasia course will still remain open during The Gardens mini-golf course closure.
News #4: New Dates For Disney's After Hours At Magic Kingdom
Walt Disney World has announced that new dates for the extremely popular Disney after hours has been extended at Magic Kingdom. You will need a special ticket to enter the theme park and you can get in as early as 7pm. Guests can enjoy more than 25 attractions, watch the fireworks show and meet some of your favorite characters with little or no wait times. Included in the admission price is Mickey's premium ice cream bars, popcorn and some beverages.
These are the new times and dates from December 3, 2018, to March 7, 2019:
3rd Dec: 10 p.m. – 1 a.m.
10th Dec: 10 p.m. – 1 a.m.
7th Jan: 8 p.m. – 11 p.m.
17th Jan: 8 p.m. – 11 p.m.
24th Jan: 8 p.m. – 11 p.m.
28th Jan 8 p.m. – 11 p.m.
7th Feb 8 p.m. – 11 p.m.
14th Feb 8 p.m. – 11 p.m.
28th Feb: 9 p.m. – 12 a.m.
7th Mar: 9 p.m. – 12 a.m.
News #5: New Refurbishment's at Disney's Animal Kingdom Lodge
Kidani Village Exterior Painting
The exterior of Kidani Village will be having a fresh paint job and will be continuing into 2019. If you are staying at this resort you might see some High Reach Construction vehicles and balconies will be accessed by the painting workmen. The work will be from 9.00am till 6.00pm.
Jambo House Pool refurbishment
From September the 4th The Uzima pool at Jambo House will be closed for refurbishment and its expected to be finished in December. The playground will also be closed and work begins at 10.00am till 6.00pm. If you are staying at Jambo House then you are welcome to use Samawati Springs Pool and Hot Tubs at Kidani Village.
News #6: LegoLand Gives Free Admission To police Officers, Firefighters and Ems Personnel
The whole month of September will see real-life heroes have free single day theme park tickets to LegoLand Florida Resort. The park has also announced that they can buy tickets for up to four guests at a 50 percent discount.
The promotion is open to retired and active law enforcement, EMT/EMS personnel workers and Fire Fighters. These are the eligible positions:
Corrections officers
State and federal law enforcement officers
Fish and wildlife field officers
U.S. Forest Service rangers
National Park Service officers
Homeland Security and TSA agents
Environmental protection officers
Firefighters
Emergency medical services employees (EMT/EMS)
Municipal and county police and sheriff's officers
Highway patrol officers
Rumor #1: Universal's Islands of Adventure is getting a Legend of Zelda Section
Universal and Nintendo have been working together to launch a Nintendo style theme park and they have started at Universal's Studios Japan. Construction on the Tokyo park has already started and is set to open in 2020, with Orlando and Hollywood Locations next. The latest rumor that has been going around is that the entire Lost Continent section of the park is going to be transformed into a Legend of Zelda area.
The other rumor that have been flying around is that a Mario Kart attraction will have some part in the new park. Universal and Nintendo are keeping very quiet and have not released hardly anything yet so take everything you hear with a pinch of salt. One thing is for sure it won't take long until we know what they have up their sleeve.
Rumor #2: New Attraction Coming to United Kingdom At Epcot
A rumor has surfaced about a new attraction at the United Kingdom's pavilion at Epcot. The rumors that are circulating are that the ride will be either a whip ride or a carousel. I would imagine the most likely theme of the ride would be Mary Poppins from the new film Mary Poppins Returns. If this was to go ahead i imagine the ride would be open early 2021.
A Mary Poppins formal character meet outside the pavilion would also make sense but nothing has been confirmed yet. Other rumors for the United Kingdom's pavilion could include something to do with Brave, Alice in Wonderland or even something involving the Loch Ness Monster.
Rumor #3: Tron Themed Go-Karts Could Replacing Tomorrowland Speedway Cars
There have been reports that Disney are working on a Tron themed speedway to fit in with the new tron ride that is right behind the outdated Tomorrowland Speedway. The old Karts are run on gas and with Disney Trying to help with saving the world i imagine that the new Karts will probably be some sort of hybrid engine.
The new Tron Go Karts would have a lighting package and could have sound effects that would be inspired by the Tron film. If this is true then i think that it will probably be sponsored by Honda just like the Anaheim, Disneyland's version.
If you are planning a Disney holiday then be sure to check out our website DisneyandOrlandGeeks regularly for loads of tips and tricks.
What do you think about these rumors? Would you like to see a Mary Poppins ride at Epcot? We would love your feedback so please share your thoughts below.